Meet the Coaches
Our Coaches are here to help all of our swimmers to get the most out of our Club and their own personal swimming journey.
Kate Offord - Head Coach
Kate joined Altrincham Swimming Club as a Coach in 2013. She became Assistant Head Coach in 2014 and spent the following 7 years working hard to help the Coaching Team to build performance across the Club, focusing predominantly on strengthening the development squads. Kate became Head Coach in 2021. She is focused on growing the club post-Covid, ensuring that all Club swimmers can meet their potential. She wants the Club to make it's mark on the swimming community as a whole. Kate found her love of swimming aged 6 years old when she was asked to do her 400m badge and she refused to stop swimming - going on to complete her 2000m badge! When she was 7 she joined Chalfont Otters Swimming Club, her local club and later moved to Amersham Swimming Club. Kate was a fly and freestyle swimmer and swam regularly at Counties and Southern Counties, representing Berkshire and South Buckinghamshire on a regular basis, and won a number of National Schools medals along the way. Always inspired by her swimming coaches, Kate was a volunteer Coach during her A levels. Kate still loves swimming and trains regularly, occasionally entering Masters and Open Water events. Kate is a huge advocate of engaging young people in sport and is passionate about keeping them in sport throughout their teenage years. Kate runs her own Triathlon Coaching Business, Smiling Tri Coach, and she works as a Tutor in the Coach Education Team at British Triathlon. She is a British Triathlon Level 3 High Performance Coach, Level 2 Teacher of Aquatics, Swim England Level 1 Assistant Coach, Swim England Level 2 Coach and a Level 3 Personal Trainer.
Dan Brint - Assistant Head Coach
Dan began coaching with Altrincham in 2017. Dan currently coaches the Performance Squads, and works closely with the rest of the coaching team to ensure that the swimmers achieve their goals and perform at the highest level. Dan is a Level 2 Teacher of Aquatics. Prior to joining the Coaching Team Dan was a swimmer at Altrincham from the age of 8, going on to be Club Captain. Dan also spent a number of years competing with Swim Trafford, as well as competing at a national standard at triathlon. Outside of swimming, Dan works in the Wealth Management industry. When he isn't at work or the swimming pool he is usually found in the gym trying his best to keep fit. Altrincham Swimming Club has been a part of Dan's life for many years. He is passionate about driving the club and its swimmers to reach their maximum potential.
Andrew Walton - Squad Coach
Andrew began at Altrincham swimming club many years ago when he was eight years old. He progressed through Altrincham's swimming squad to the top squad and went on to represent Altrincham swimming club at county, Regional and National competitions. Andrew then went on to represent his university swimming team Sheffield Hallam at British University Championships and he swam for City of Sheffield Swimming Squad. Andrew's favourite stroke was front crawl. However, he would even enter Butterfly races just for fun when competing. Andrew started his coaching career when he was sixteen gaining a level 1 and 2 in teaching Aquatics and then gaining his level 1 and 2 in Coaching swimming. Andrew first helped to develop swimmers from the SwimWell program into the swimming club. Andrew would continue to do this through University while travelling back each weekend. After university, Andrew took on a small number of swimmers who wanted to make regional swimming times and eventually move onto the boroughs top swimming club 'Swim Trafford'. Andrew managed to get a number of swimmers to the borough's top swimming squad with some of them going on to achieve national success. As well as coaching at Altrincham swimming Club, Andrew helped out and worked along side James Stannard Coaching National and regional swimmers at swim Trafford. Andrew still maintains a love and passion for swimming and continues to pursue this at Trafford Metro Master swimming squad and has represented them in Master swimming events. This therefore allows him to understand the pressures and challenges on what swimmers go through on a daily basis.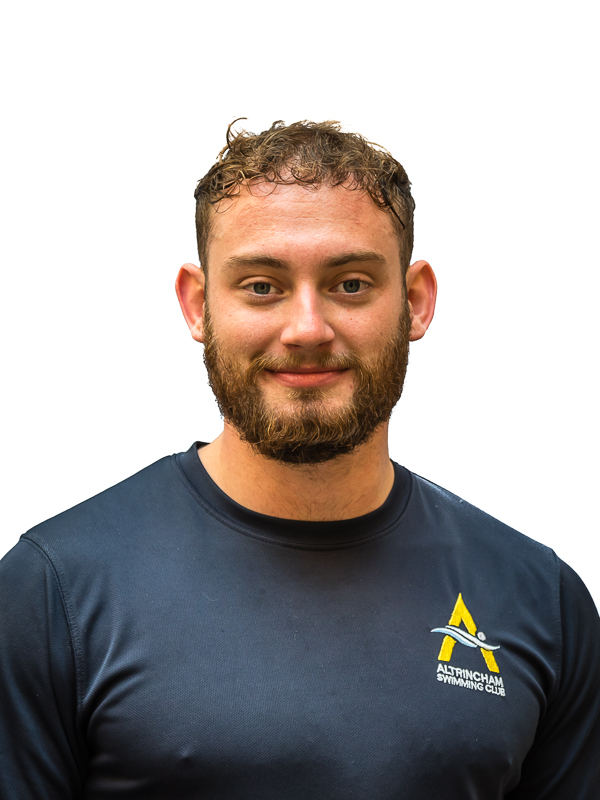 Tom Broadfoot - Squad Coach
Tom started his swimming pathway with Altrincham Swimming Club, which then led on to training under performance with Manchester Aquatics. In his time of swimming Tom managed to get himself as a Regional and National finalist, as well as competing in International meets.
Jade Ong - Squad Coach
Jade joined ASC when she was 9 because she loved swimming and wanted to swim more. Jade was never a competitive swimmer, but did enjoy the team galas! Jade started volunteering on poolside about 3 years ago and since then she has done both her level 1 and level 2 teaching courses and really enjoyed being on poolside more. She loves coaching and seeing the swimmers progress and develop, as well as how much they all love to swim. ASC is a great place to be as both a swimmer and a coach and has been a massive part of Jade's life for the last 10 years.
Tess White - Coach
Tess has been a keen swimmer all her life, completing her Silver and Gold awards by the age of seven and competing for Alsager Swimming Club in the backstroke and butterfly stroke as a junior - at both county and national level. After studying Leisure and Tourism at University, Tess enjoyed many years working all over the world in the travel industry, before retraining as a Level 2 swimming teacher in 2019 and going on to achieve Swim England Level 1 Assistant Coach. Her love of water is not confined to the swimming pool: Tess enjoys open water swimming, paddle boarding and kayaking most weekends with her two boys. Having lived in Altrincham for many years, Tess is a regular face at Altrincham leisure centre, either with her family or in a swimming coaching capacity, where she teaches a mix of ages and abilities.
Emily Inns - Assistant Coach
Emily joined Altrincham Swimming Club at age 7, having worked her way through the Learn to Swim stages and completing her Bronze, Silver and Gold awards. Emily is a keen competitive swimmer and has competed across the Region representing Swim Trafford and Bolton & Manchester teams and of course Altrincham. With an interest in coaching from early on, Emily has volunteered with Altrincham Swimming Club for some time, using her volunteering towards both her Bronze and Silver Duke of Edinburgh Awards. Having already achieved the Swim England Young Volunteer Award, through which she qualified as a British Swimming Timekeeper, Emily qualified as a Lifeguard and then went on to complete the Level 1 Coaching qualification. Emily has been proud to be the Club's Girls' Captain and aims to continue to encourage other swimmers to develop a lifelong love of swimming, to achieve their goals and enjoy the journey.
Kristina Wright - Volunteer Assistant Coach
Michael Gillespie - Volunteer Assistant Coach